Legacy Linux Setup
There are two methods to connect with our Linux Terminal Servers; SSH and via Exceed onDemand.  SSH is command line only, while Exceed onDemand provides access to the desktop.  Your login credentials are your regular ULID and your assigned password.
SSH
SSH is built into the OSX and Linux terminals.  On Windows the "PuTTY" client can downloaded and used: http://www.putty.org/
In OSX, open the terminal and type "ssh -l *ULID* *IP*" where *ULID* and *IP* are your ULID and the IP of the terminal server you wish to connect to.
Example: Users-MacBookPro:~ User$ ssh -l myulid 10.21.100.45

Through PuTTY, just enter the IP of the terminal server you wish to connect to.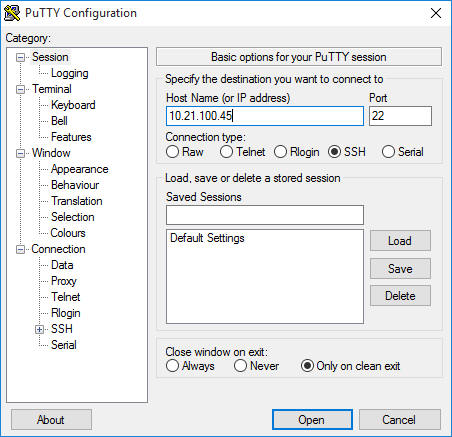 Exceed onDemand
Exceed onDemand may be downloaded through the following external site: http://connectivity.opentext.com/products/exceed-ondemand-windows-platforms.aspx
To use Exceed onDemand, install the software on your computer (if not installed yet) then:
1) Open Exceed onDemand
2) Enter the Exceed onDemand server address: 10.21.100.44
3) Enter your ISU ULID and password at the prompt
4) Select the server you want to connect to
5) Enter your ULID and provided Linux password
The following is a list of Linux terminal servers.
| | |
| --- | --- |
| Name | IP |
| PIONEER2 | 10.21.100.45 |
| DISCOVERY2 | 10.21.100.46 |
| CURIOSITY2 | 10.21.100.47 |
| VIKING2 | 10.21.100.48 |
| MERCURY2 | 10.21.100.49 |
| TRANQUILITY2 | 10.21.100.53 |
| APOLLO2 | 10.21.100.55 |
| ORBITER3 | 10.21.100.57 |
| PHOENIX | 10.21.100.60 |